● development and use of formulas for the area and perimeter of triangles and parallelograms
● determination of the internal and external angle sums for a polygon and confirmation by measurement
● estimation of the likely maximum and minimum error associated with a measurement
● appropriate use of zero to indicate accuracy of measurement; for example, a piece of timber 2.100m long is accurate to the nearest mm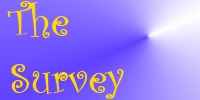 Design a discrete surveys to ask students in the school a question.
Design an experiment that tests something about one student (like reaction time). Repeat the test twenty times.
Graph each of your results using Create-a-Graph. Identify the mean, median, range and the mode of the data. For the experiment, mention what the error might be based on the range. Use Excel to sort the data.